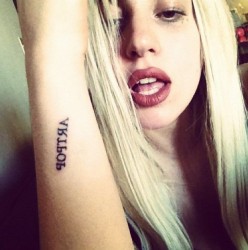 Quite good popstar Lady Gaga has met quite good pop producer and 'artiste' Madeon in "HOLLAND".
We know this because she tweeted him earlier, see: "@madeon So happy I was able to run into you in HOLLAND ;) wink. Love, MARY JANE. X0X0"
We wonder if that "wink" meant it was all planned and that actually they met in a recording studio where they possibly worked on some songs for 'ARTPOP'?
The 'Marry The Night' hitmaker was also tweeting Azealia Banks yesterday so something might be happening there. Or maybe they're just pretend 'friends' like so many of us are on Twitter.