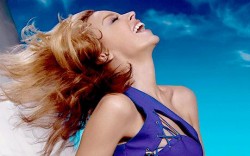 Kylie Minogue has called the album she's working on for 2013 "really exciting and different".
Talking to the Metro about her forth­com­ing K25 cel­eb­ra­tions, she let slip that she had already started on a new album with "a few different people".
She went on to say that she'd been working on the new stuff while also recording the re-inter­pret­a­tions of old hits. "While we are cel­eb­rat­ing K25 – 25 years since 'Locomotion' – it's really nice to be working on new stuff and different inter­pret­a­tions of the old hits. It's been recorded at Abbey Road and we will see what comes out."
GET ON WITH IT.