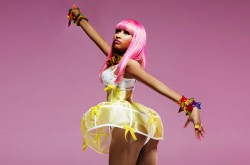 Nicki Minaj has been added to the lineup for this summer's T In The Park festival.
Minaj was confirmed shortly after the three dis­tinctly less exciting head­liners of Snow Patrol, Kasabian and The Stone Roses were announced.
Other notable pop acts who'll be shlepping to Scotland for the weekend of July 6–8 then fucking off again almost imme­di­ately in search of the next festival at which they are booked to appear include Jessie J, Tinie Tempah and Example.