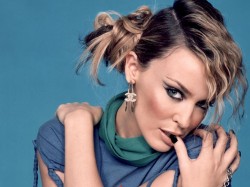 Britney Spears and Kylie Minogue have had a con­ver­sa­tion on Twitter.
Last Friday, Kylie tweeted Britney saying, "I am READY for the @britneyspears album.…love what I have heard!!! WhooOoOoOPP!!!!".
Busy shooting the video for 'Til The World Ends', it took Britney until today to reply. Expressing her thanks, she then posed Kylie an awkward question: "What's your favorite song?".
But Kylie's not only heard the album, she's also aware of the bonus tracks, tweeting back that her favourite songs are 'Til The World Ends' and the Rodney Jerkins-produced, 'He About To Lose Me'.
What about 'Criminal'? What about 'Inside Out'? Etc etc etc.