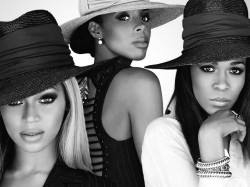 Kelly Rowland reckons there probably won't be a Destiny's Child tour to be quite honest with you.
"I can't say anything about a possible tour," the 'Une femme en prison' chanteuse said after the Grammys (as quoted here).
But why, Kelly?
"I know Beyoncé is touring. I have my new single 'Kisses Down Low,' and Michelle is doing Fela! If something like that comes up in con­ver­sa­tion — it hasn't — then we'll see what happens."
Hm.
Mind you, she had a lot of fun doing the Super Bowl halftime thing and that's what really matters.
"Oh my gosh, I cannot begin to tell you how much fun that was," she exclaimed. "It felt really good to look on the other side of the stage and Beyoncé and Michelle were walking in for 'Bootylicious.' I miss those moments with my sisters. It was incred­ible. I hope everyone enjoyed it as much as we did. It was hard to keep that secret."
It sort of wasn't a secret by the end but there we are.