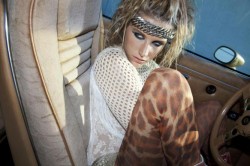 Ke$ha's constant stream of Twaffle was inter­rup­ted after her account was hacked earlier today.
Trusting Twitter enough to apologise to her 'animals' (fans), the cock-pop fig­ure­head said: "animals! u know i love u! none of those tweets were me and im sorry if anyones feelings were hurt! we gonna fix this…xx LOVE YOU!!!"
Things then turned a little 'Crime Watch' as Ke$ha appealed for witnesses: "WHAT THE FUCK. PLEASE TELL ME IF YOU KNOW WHO HACKED ME!"
"animals, if you know please tell me or I'm going to have to unfollow everyone : ( I'm sorry but i keep getting hacked…," she went on.
In the end she went for the slightly softer approach of basically saying that if you do hack her at least say nice things to her fans.
Tragically, it didn't take long for 'normal' service to resume.