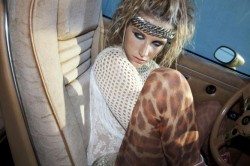 Ke$ha's been chatting away about her forth­com­ing tour with Pitbull and basically it's going to be like her last tour only with more glitter.
"What I'm doing is keeping the essence of my last tour, which is just wild, debauch­ery, raw, and more or less unplanned," the 'C'Mon' hitmaker told Billboard.
"We have some planned moments, but I like having it where it's a little bit less struc­tured, because then I can do whatever I feel like, whenever it hits me. That was very much on my last tour, but now I'm just amping it up."
We're big fans of "amping it up", as you well know, so how will this manifest itself, Ke$ha?
"I'm making [my show] bigger, better, funner, louder, brighter, with more pyro, more glitter, and more dancers, just more of everything. I very much agree with Dolly Parton that 'more is more.'"
So there you have it.
At the moment, the tour is limited to America, so we may never see this "funner" show in the UK.