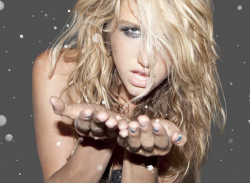 Ke$ha has told the Los Angeles Times that she never expected the criticism that has come her way in the last few years.
Asked what she'd do if she could go back in time and give her younger self some advice, she said, "I'd want to warn myself of all the hate I'd have to endure. I'm an artist and a sensitive person. Hate like that was shocking".
The interview features input from those who have worked with Ke$ha and helped cultivate her 'image'.
Marc-Edouard Leon, an LA director behind several of Ke$ha's viral and tour videos, compares her song­writ­ing "to Michael Bay directing a Jack Kerouac screen­play" and feels that the haters are missing the point.
"I still don't under­stand," Leon explains, "how it's gone over everyone's heads that Ke$ha is reviving everything that was great about rock & roll: the libido, the rebel­li­ous­ness, the excess and the fun."
Ke$ha herself is equally self-effacing: "I'm not art, I'm truth".