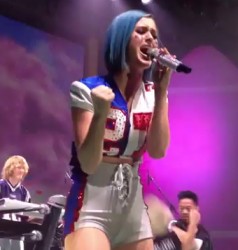 Katy Perry's pre-Super Bowl party was broadcast on cable tele­vi­sion station DirecTV last night.
Cheerleaders, quar­ter­back dancers and guitar-wielding referees backed Perry's themed per­form­ance of 'Hot N Cold', 'Teenage Dream', 'ET' and 'Peacock'.
The 'concert' was broadcast live from Indianapolis after which Perry made her way to watch Madonna's slightly bigger affair at the Lucas Oil Stadium.
You can watch a clip from her DirecTV gig here.