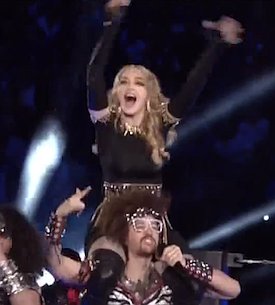 Madonna spent some of last night climbing on LMFAO. (Billboard)

Meanwhile, Kelly Clarkson didn't fluff her lines as she sang the National Anthem prior to the kickoff. (Ace Showbiz)

'You Lost Me' hitmaker Christina Aguilera didn't recognise a former Mouseketeer who audi­tioned on The Voice, which returned for its second season last night. (MTV)

Authentic Chanteuse Lana Del Rey's debut album 'Born To Die' did fairly well in its first week of release, getting to Number One and out­selling the rest of the top five combined. (Official Charts) How dare she sell albums etc etc.

In 'unlikely to happen' news, Simon Cowell would 'appar­ently' love Cheryl Cole to return to The X Factor next series. (Daily Mail)

Emeli Sandé has admitted she was a "big geek" at school, but doesn't elaborate on the grades she got in her O‑Levels. (Contactmusic)

The four women who had their photo taken with Robbie Williams when he was 14 years old have all been tracked down and pho­to­graphed with a cardboard cutout of him. (The Sun)

An 'insider' has revealed that Lee Ryan from Blue has written a film script called The Orange Tree, and is looking for a producer. (Daily Star) Form an orderly queue, 'The World Of Film'.

If you got excited about the prospect of Adam Lambert joining The World's Worst Band Queen, don't be: it's all been "taken out of context". (Toronto Sun)

And finally, Rihanna has been teasing 'Birthday Cake' col­lab­or­a­tion plans, with a cryptic "#DIRRRTY" possibly giving the game away. (Twitter)
THAT WAS some of THE NEWS.