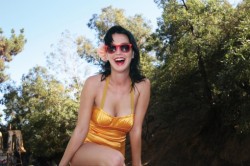 Katy Perry has discussed her strict religious upbring­ing in a revealing interview with Vanity Fair magazine.
In the interview, Perry claims she "didn't have a childhood" and that her parents wouldn't let her use the word "devil", listen to secular music or read anything other than the Bible.
(One wonders how they would have reacted if they were able to fast­for­ward a few years to the sight of Perry bouncing around on Russell Brand's cock on a nightly basis.)
Perry says it was only her inquis­it­ive nature that allowed her to look outside of religion for answers. "I have always been the kid who's asked 'Why?'," she says. "In my faith, you're just supposed to have faith. But I was always like … 'why?'"
Perry goes on to say that she and her parents now "coexist" and that they have accepted her success. In fact, her mum claims in the same article that God told her she would have a pop star for a daughter. "The Lord told us when I was pregnant with her that she would do this," said Mary Perry Hudson.
The interview opens with Perry comparing her career to an "artichoke" and can be read in full here.