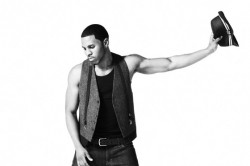 Jason Derulo has told MTV.co.uk that after his new album 'Future History' he wants to move into acting.
An unusually self effacing Derulo said of the album: "I really wanted to make sure it gets the exposure it deserves. It's the greatest accom­plish­ment of my life so far. It has to be heard by everybody."
Still, you can have too much of a good thing and at some point Jason will have to stop; "After this album, I will dive full-throttle into movies for a while. I will ulti­mately take a break from music."