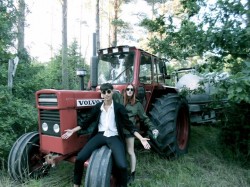 Icona Pop have only just started working on their album :(
Having a chat with Rolling Stone about New York Fashion week and some other important but non-musical things, they were then asked what people can expect from their album, to which they replied:
"Well, we have just started, but it's gonna be a hell of a lot more galloping drums and twisted synthesizers!"
They also talked about the success of 'I Love It' and how that's trans­lated into the appear­ance of Icona Pop groupies.
"Some people have been coming to our gigs standing outside the venue just to say hello because they are underage, some have been stopping us on the street just to take a picture," one of them said. "Last time when we had a mini-tour, some people followed us to all the cities. We have the best and most sup­port­ive fans in the world!"
And patient.