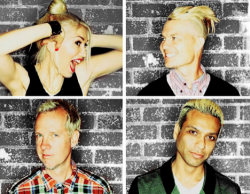 Gwen Stefani side-project No Doubt are working on a new album with producer Greg Kurstin 'at the helm'.
While attending the ASCAP Pop Music Awards, the 'producer of note' told Rolling Stone that No Doubt are currently "working on some new material", before adding: "We've been working and we're going to work on more next week. That will be fun, I think."
'I think'.
Kurstin is also currently working with Mikky Ekko and Lily Allen, and he recently produced some of Tegan & Sara's literally amazing 'Heartthrob' album so this all bodes well.