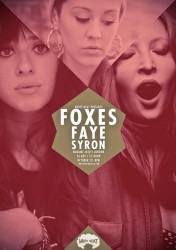 If you're a fan of female popstars whose names begin with the letter F then we have some good news: Foxes and Faye are playing a 'gig' together.
All the inform­a­tion is on that poster to your right, but it's quite small so we'll highlight the main details which are:
It's on October 20
Doors open at 8pm
It's part of White Heat @ Madame JoJo's, which is in London
Tickets are £6 in advance or £7 on the door
That's it.
UPDATE: Syron's playing too you know. You can get tickets from here if you like.