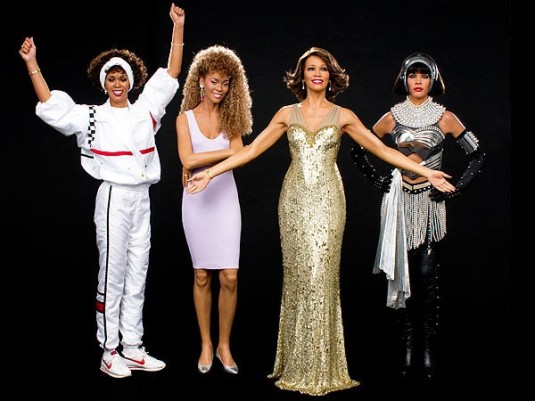 Four waxworks of Whitney Houston have been 'unveiled' to taste­fully mark the anniversary of her death.
As you can probably tell from the picture above, the four waxworks reflect different moments in Houston's career and will be shown in different cities in America.
The waxwork featuring the headband will be kept in Washington DC, Las Vegas will get the version of Houston from the 'I Wanna Dance With Somebody' video, the Bodyguard one will be in Los Angeles and New York will get the one from a 2009 photo shoot. There will not be a Whitney Houston in Houston Texas or Whitney Texas, which seems a bit of an oversight but what can you do.
"We were extremely honored [SHE MEANS HONOURED] when Madame Tussauds approached us about doing four figures of Whitney from different points in her 30-year career," Pat Houston, Whitney's manager and sister-in-law said in a statement (as quoted here). "This is something we are excited to do for the fans."
The waxworks will be offi­cially unveiled in New York later today.