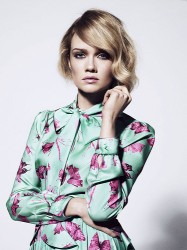 'Experimenting WIth Rugs' chanteuse Florrie has revealed that forth­com­ing EP 'Late' will likely be her last as an inde­pend­ent artist.
Writing in a blog on her official site, the perfume-flogging singer of song claims she has two 'big songs' up her sleeve and that she hopes to employ the services of a major label to help her launch her career with these.
Translation: expensive videos ahoy.
Florrie has pre­vi­ously given her reasons for not signing a record deal, but says she feels "like this is the right move at the right time".
"At some stage in the next 8 — 12 months, I will be able to service my new record to radio stations, TV, press, which I've never done before, and it is MASSIVELY exciting!" she added.
Before that, though, the 'Late' EP is out May 31.