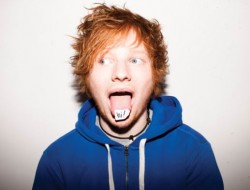 Elton John has been offering his famed popstar life­coach­ing services to Ed Sheeran.
"I was in a car coming back from the studio and I got a call, 'Hi, it's Elton'," the singer told ContactMusic, adding: "It was just mad."
Being in a car! Madness.
Elton has been guiding Ed's career choices including what singles to release and how his album should sound, plus "advice on how to break America, which is amazing, as he's someone who knows what it is to break America".
Ed revealed his surprise that someone over 40 would know anything about pop music. "He was telling me how fantastic he thinks Dot Rotten is and how Devlin is such a fine lyricist," Sheero explained. "I couldn't believe it."
(Don't tell him readers but it was just our cleaner putting on a funny voice.)