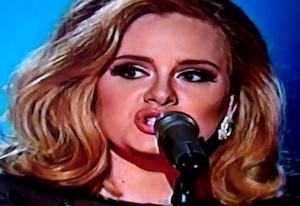 Adele won every Grammy Award she was nominated for last night, leaving her with six awkwardly-shaped trophies she'll have to try and sneak into her hand luggage on the flight back home. (Billboard) Changed Man Chris Brown picked up Best R&B album, while Corinne Bailey Rae also won one of the nights 78 awards.

Meanwhile, Nicki Minaj, Katy Perry, Kelly Clarkson and Rihanna with Coldplay were some of the per­formers on the night, and you can watch a selection of video clips at That Grape Juice.

Kylie Minogue's Mardi Gras per­form­ance will be a "20-minute audio-visual spec­tac­u­lar", rather than just the one song that was ori­gin­ally expected. (Sydney Herald)

Steps' plans for a new album are perhaps better best forgotten, as Sony have pulled out of their deal. (Daily Mirror)

In 'not exactly great' chart news, Madonna's new single 'Give Me All Your Luvin'' enters at number 37, while Gotye's 'Somebody That I Used To Know' is at Number One. (Official Charts) Well done everybody.

Yasmin would marry shouting unfunny­man Jack Black "in a hot minute". (Twitter) Good to know, Yasmin.

'Sexual Eruption' hitmaker Snoop Dogg has gone back to his porn roots by recording 'exclusive' music for a new Hustler film called Riding The Flying Pink Pig. (Contactmusic) Jesus Christ.

CHER LLOYD WATCH: after recently announ­cing that she sometimes feels like an alien, Cher now admits that she was "a beast" during her time on The X Factor. (Sugarscape) Remember everyone, you can do what you like in life as long as you admit it and say that you're sorry.

And finally, Aston from JLS looked like he had fun with the rest of the group on his 24th Birthday night out, even if his cake seems a bit on the small side. (Daily Mail)
THAT WAS some of THE NEWS.