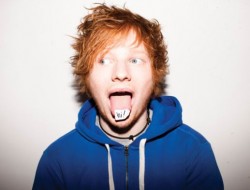 Foul-mouthed wild child Ed Sheeran insists his new album will sound just like his first one.
The 'Sunburn' singer of song let this one slip to The Mirror, admitting: "I'm not going to do the typical second album thing and make it really odd sounding, cool and hip. I like the music I make, so it's going to be similar to the first album."
FANTASTIC.
We wonder if he misses anything about the UK when he's off 'jaunting' his way through America.
"I miss my friends and family, and Nando's which they don't have in the US! I wish I could tell you we go out every night and drink sambucas off strippers' bellies, but my touring team is basically all middle-aged men who are married with kids. It's very calm."
Don't say you're not surprised readers.