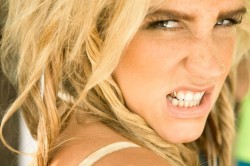 Street-slashing chanteuse Ke$ha has given us fair warning that her new album 'Warrior' will make us wet ourselves when we listen to it.
"My fans will dance so hard, they pee in their pants. In a sexy way," the 'Boots & Boys' hitmaker is quoted as saying.
So what with Christina's bowel-activ­at­ing 'Lotus', the coming winter looks to be a very messy few months for all of us.