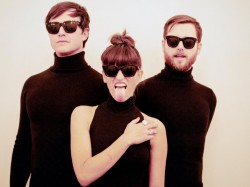 Dragonette and Martin Solveig's 'Hello' has won an award for Best Dance Recording at Canada's Juno Awards last night.
The awards honour the best in Canadian music over the past year, and in the Dance Recording category Dragonette were up against Duck Sauce's 'Barbra Streisand' and 'Aural Psynapse' by Deadmau5, who had taken the award in each of the past four years.
Dragonette drummer Joel Stouffer told The Canadian Press that he was "kind of banking on [Deadmau5 winning]…We were like, 'OK, we're fine, we don't have to get up and say anything — Deadmau5 has got this'. And then suddenly we won and then we were all terrified."
The new Dragonette single, 'Let It Go', is out tomorrow.