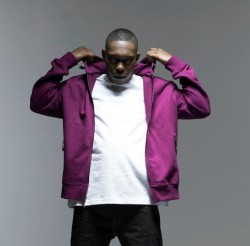 Dizzee Rascal's new album is called 'The Fifth' and will be out on July 1.
According to a press release (that describes the 'Pussyole (Old Skool)' hitmaker as a "UK music legend"), the album features col­lab­or­a­tions with the likes of Angel, will.i.am, Tinie Tempah, Calvin Harris, Jessie J and, of course, Robbie Williams.
It will also feature four songs recorded with RedOne, which is quite exciting.
Dizzee had this to say about it all: "If my last record was dipping my foot into the swimming pool of happiness, this one is fully going for a swim — back­stroke, butterfly, in every way…Not just doggie-paddle."
Thanks for that.
Here's the 'deluxe' track­list­ing:
1) Superman
2) I Don't Need A Reason
3) We Don't Play Around ft Jessie J
4) Good ft. Angel
5) Spend Some Money ft. Tinie Tempah
6) Arse Like That ft. Sean Kingston
7) Something Really Bad ft. Will.i.am
8) Goin Crazy ft. Robbie Williams
9) Bang Bang
10) Love This Town ft. Teddy Sky
11) H Town ft. Bun B and Trae Tha Truth
12) Heart Of A Warrior ft. Teddy Sky
13) Life Keeps Moving On
14) Here 2 China
15) Bassline Junkie
16) Watch Your Back