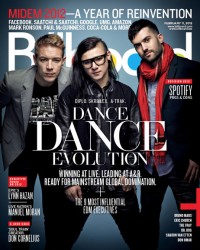 Skrillex, A‑Trak and Diplo have been talking about revolu­tion­ising the music industry.
The Robespierre of dance music A‑Trak believes we are living in trans­form­at­ive times, describ­ing it as "a time where all of us [Diplo, Afrojack et al] are able to rewrite the rules". He added: "Not to sound too cocky, but it's like there are no more rules. There is a captive audience, and it's hungry."
On his part in ushering in a new era Diplo remarked to Billboard: "I know one thing — the major labels, the A&Rs, are very frightened now. They see that things are in our hands in a lot of ways."
Well that's that sorted.