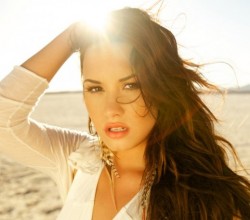 Unlike Leona Lewis, Demi Lovato's getting a bit bored of dubstep now to be honest with you.
Talking to Teen Vogue (as quoted here), the 'You're My Favorite Song' hitmaker railed: "I will say that I'm tired of all the dubstep that's on the radio right now — I think it's going to be out in two months."
Controversial.
"I want to make something that people will listen to for a while, rather than something that's just trendy," she continued. "I feel like I've grown as a person, and I want my music to grow with me."
So what does she like listening to?
"I love the way that Adele [QI KLAXON] has carved out a path for a singer that's very emotional. But I also love how Taylor Swift can do the same thing — she puts a lot into her songs yet they're still very catchy."
So there you have it.