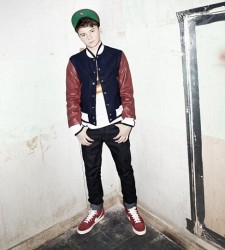 Inexplicable heartthrob Conor Maynard has insisted that he is not the British answer to Justin Bieber, telling Metro that "in terms of music" he is "very different".
"I've kind of gone for a very urban root with some quite British inputs as well," he protested, for what will probably not be the last time.
Nonetheless, both have worked with Pharrell in America — an exper­i­ence Maynard quite enjoyed.
"Before last year I had never been abroad… It's crazy for me going to America. Obviously, Pharrell's a bit of a dream for someone like me to work with," Conor gushed. Explaining how the Pharrell business came about he said: "He saw my videos on YouTube and reached out to my label and said 'Do you look after this kid, who is he?'… Saying 'I worked with Pharrell' is just insane. He's an amazing person to have believe in you."
Conor Maynard's debut single, 'Can't Say No', will be released on April 16.