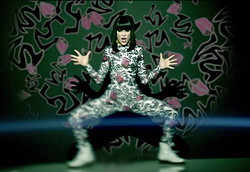 Inspirational Spokesperson For All Humanity Jessie J is going to try and tone down her intense fashion stylings, stating "is it really necessary to wear all that jewellery and make-up at 7am and look like a drag queen?" (Contactmusic)

Madonna has been sharing photos of bruises on her lip and bottom. She got from rehears­als over the weekend. (Facebook)

Following in the recent footsteps of Coldplay and Florence '+' The Machine, One Direction will be per­form­ing on Saturday Night Live on April 7. (Daily Mail)

In further '1D' news, Justin Bieber's manager Scooter Braun has recently hinted that the 'Never Say Never' hitmaker may well col­lab­or­ate with the group in the future. (Music Fix)

Dappy might be sampling Beethoven's na na ninth symphony soon, as he's "been listening to lots of classical CDs recently". (The Sun)

Rihanna and Kanye West both performed at Brad Pitt's charity gala on Saturday, and you can watch some amateur footage of it here if you so wish.

If you have a busier social life than us, you may have missed Will Young per­form­ing 'Losing Myself' on Let's Dance For Sport Relief. (BBC iPlayer) The less said about Redfoo from LMFAO's 'per­form­ance', the better.

More shocking twists and turns from The X Factor: Gary Barlow might not be returning as a judge, as the Queen's Birthday bash is taking up too much of his time. (NME)

Aston Merrygold had a bit of swimming scare when his foot got caught in some under­wa­ter cables, as the band were filming some footage for their upcoming 4D tour. (MTV) But some life­guards were at hand to help him out, so no need to panic. He did not die. Repeat: Aston Merrygold is alive.

And finally, The Wanted are "in talks" to have a cameo appear­ance in the film version of Entourage, after they happened to 'bump' into show creator Mark Wahlberg in Barbados. (Daily Mirror)
THAT WAS some of THE NEWS.