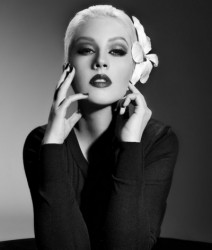 Christina Aguilera has likened her 'oeuvre' to a beautiful painting of the unclothed human form.
In a LOLsome interview with Gordon Smart of The Sun, Christina mused on her parental respons­ib­il­ity to her four-year-old child in the following way: "If I was a painter and my thing was painting beautiful nude pictures on canvas, if I had a child I wouldn't stop painting those beautiful nude pictures. Is music any different?"
She's got a point hasn't she. Just think about the Da Vinci-esque faceful of 'blue paint' she gets in the 'Your Body' video.
"I try to keep all the different hats I wear very different," continued the singer famed for single-entrendres like 'soon I'm gonna feel your honey drip/My juices start to flow'. "Mummy's hat is very different from party hat. It's a real balancing act for me."