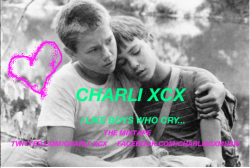 Stroppy songbird Charli XCX has done a mixtape of her favourite songs sung by men.
'I LOVE BOYS WHO CRY…THE MIXTAPE <3 ' is "the boy version" of the 'SUPERGIRLS <3 SUPERLOVE <3 MIXTAPE <3' com­pil­a­tion that she put together last week.
The angle bracket and 3 heartshape advocate stressed that this col­lec­tion of 11 tracks was strictly "bros before hoes this time". The 'eclectic' mix features sweaty-scrotumed rappers The Ying Yang Twins, crap embar­rass­ment Chris Crocker and Labyrinth actor David Bowie.
You can download Ms XCX's mix from her SoundCloud.
'<3'.