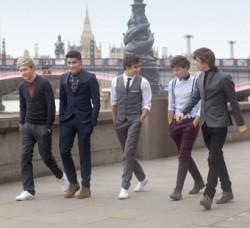 The war is over: Capital FM have played a One Direction song for the first time in three months.
According to Music Week the station played 'What Makes You Beautiful' at around 7:45pm last night, making it the first 1D song to grace their airwaves since Harry Styles acci­dent­ally thanked Radio 1 at the Brits while col­lect­ing an award sponsored by Capital.
This comes a couple of weeks after The Wanted appeared on Britain's Got Talent although we're sure the two facts are com­pletely unrelated.
One person who was relieved it was all over was McFly's Dougie Poynter who tweeted: "The man [on] capital just said 'we're gonna play one direction' maybe they're over it finally haha."
Haha.
We'll all remember where we were the day this par­tic­u­lar war of attrition ended, won't we.