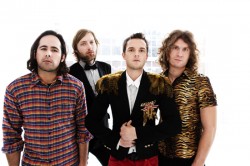 Singer of song Brandon Flowers has told The Guardian that he has 'issues' with eminent evol­u­tion­ary biologist and atheist Richard Dawkins.
Discussing a debate he had with the Oxford don and 'Root Of All Evil?' presenter, Flowers said: "I gave some decent answers that were edited out. So, the world is against the Christian man."
It turns out Professor Dawkins is unlikely to be receiving a Christmas card from the 'Cowboys Christmas Ball' hitmaker either. Brandon says of Dawkins: "I have issues with him. He gen­er­al­ises things about my church and kind of drags it through the dirt a lot."
It's like Posh Spice versus Sophie Ellis-Bextor all over again isn't it.
Flowers went on to say that he "knew about The God Delusion and all of those things. For him he sees the beauty in science proving something and finding out origins of things. And that's enough for him. Nothing that science will ever find will disprove that God had a hand in it, for me. So it's a useless debate. And nothing that has been found has changed the gospel that I believe in."
Richard Dawkins has yet to 'go public' with his opinions on the latest Killers album.