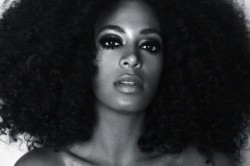 Solange is releasing an EP on November 27, entitled 'True'.
Details have just emerged on Rap-Up about a secret listening party that Solange held last night in New York for "an intimate group of press" (hopefully the press weren't intimate with each other, that would be terribly unpro­fes­sional) and her "crew".
Solange's little-known singing sister Beyoncé was in attend­ance, and appar­ently "swept her caramel tresses into a ponytail a few minutes in and got off a couch to hit the floor with her hubby".
Rap-Up also describes the EP as "a mélange of kicky dance tracks co-written and produced by Dev Hynes" (who also produced 'Losing You').
Here's the track­list­ing for the 'True' EP:
1. 'Losing You'
2. "Some Things Never Seem to Fucking Work'
3. 'Locked in Closets'
4. 'Lovers in the Parking Lot'
5. 'Don't Let Me Down'
6. "Look Good With Trouble'
7. 'Bad Girls (Verdine Version)'
Rap Up has descrip­tions of all the songs too. We're most excited about 'Locked In Closets' which appar­ently 'boasts' a "Beyoncé influence", with a beat "remin­is­cent of Michael Jackson in his 'Smooth Criminal' prime."
THIS IS GOING TO BE AMAZING.