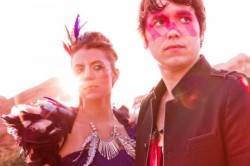 Blondfire have 'unveiled' their new single 'Walking With Giants'.
Talking to Popservations, singer Erica Driscoll said that the song is their "sunshine day, on top of the world song", which sounds about right.
She went on to say that a video was being shot "in the next couple weeks" and that it should be available to purchase via some kind of digital medium very soon.
'Walking With Giants' is taken from the duo's forth­com­ing album 'Win The Game'.