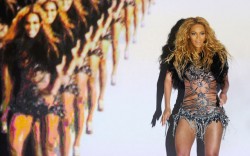 Yesterday, The New York Daily News pointed out that Beyoncé's per­form­ance of 'Run The World (Girls)' at the Billboard Music Awards was a bit like one that the Italian pop star Lorella Cuccarini did last year.
Both per­form­ances start with the singers dancing and inter­act­ing with com­pu­ter­ised graphics against a white screen, and then "within seconds of each other, both singers play with animated boxes and globes." Then, while Beyoncé "pretends to eat the world, Earth floats above Cuccarini on the screen." The per­form­ances also both feature the prominent use of wings.
Beyonce has now responded to the accus­a­tions.
"My makeup artist showed me the per­form­ance of Lorella Cuccarini a year ago, and it inspired me so much," she told AOL Music. "I then met with the talented people who worked on it. The tech­no­logy and concept were so genius. Thank god for YouTube or I would have never been exposed to something so inspiring. I never worked so hard on anything in my life as that per­form­ance for the Billboard Awards."
A YouTube user known as 'gagalovero­mance' — and yes this is all a bit rich coming from a Gaga fan — has put together a com­par­ison video here, so we can all have a look and see what we think.