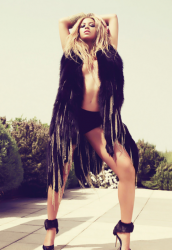 Her latest album '4' may have only been 'on the shelves' for six weeks, but according to rumours Beyoncé may have already filmed up to seven videos for various songs.
We already know abut the 'Party' video, for which Kelly Rowland and Solange were spotted on set. But, never one to take the simple, under­stated path, Beyoncé has allegedly 'done a B'day' and also filmed videos for 'Countdown', '1+1', 'End of Time', 'Love On Top', deluxe edition bonus track 'Schoolin' Life', and perhaps an uncon­firmed seventh video for whichever track was left.
Fans have spec­u­lated that she will release a video col­lec­tion for every track on '4'.
Videos for 'Run The World (Girls)' and 'Best Thing I Never Had' have already been released and pretty good they were too.
'4' has sold over 1,000,000 copies in the US alone.