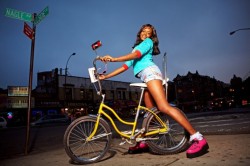 Azealia Banks has finished third in BBC's Sound Of 2012 new music list.
Banks, who can currently be heard on the demented new Scissor Sisters single, seemed pretty happy not to have won the poll. "I don't want to be called the 'next big thing' because that implies there's another big thing after you," she told the BBC.
"The media does a really good job of dis­card­ing artists — and it has a really big effect what people think about them­selves. So I try to keep a lot of that talk out of my head."
She also talked about her forth­com­ing debut album, which she's currently recording with the ubi­quit­ous Paul Epworth. "I'm really DIY, and he's very polished. But you're def­in­itely going see a darker side of Paul and a more refined side of me. That's what it has to be about."
Banks follows Niki & The Dove and Skrillex on the list, with the top two positions to be revealed tomorrow and Friday.