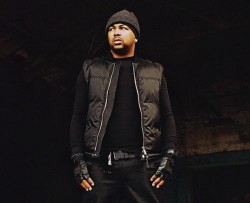 Producer/songwriter/solo artiste The-Dream made "around $15m" for writing Rihanna's 'Umbrella', reports Billboard.
During a recent visit to London to hang out with Rihanna, The-Dream, aka Terius Nash, paid a visit to Radio 1 DJ Tim Westwood where he revealed he was yet to make a dent in the royalty cheque and joked that it worked out at roughly half a million for each "ella".
He also claimed that former Island Def Jam Executive Vice President Chris Hicks paid for his stay at the Plaza hotel in exchange for him writing Justin Bieber's 'Baby' and that he gave his former wife Christina Milian a share of the royalties from the song because he's "generous" and not because she may or may not have helped with the melody.
It's thought that The-Dream was also in London to finish Rihanna's 'Birthday Cake', the not-really-an-interlude half-song on 'Talk That Talk'.