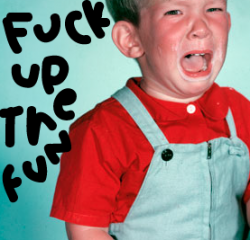 Sweary song­stress Azealia Banks has made a brand new song available as a free download.
'Fuck Up The Fun' features some breakneck effing and jeffing from Banks all set to a Diplo marching drum beat.
"Y'all bitches is out here trying to like, fuck these little rap niggas and fuck these little bas­ket­ball players and shit, like I'm getting this money for real for real for real," she raps on the tune which you're not likely to hear on breakfast radio any time soon.
You can get the freebie download here — accom­pa­ny­ing artwork to the right.