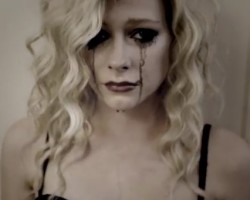 Avril Lavigne has concluded her 'Goodbye Lullaby' album campaign and year-long Black Star tour by releasing a new music video.
"I just wanted this to be something to give to you guys to say thank you and complete this album cycle," she tells fans in the video intro­duc­tion, shot on the eve of her final tour date.
The mostly black and white video for her album's title track was shot at Chateau Marmont in LA and sees Avril playing a tear-eyed femme fatale moping around a posh suite.
You can watch the video and Avril's quite cute preamble here.