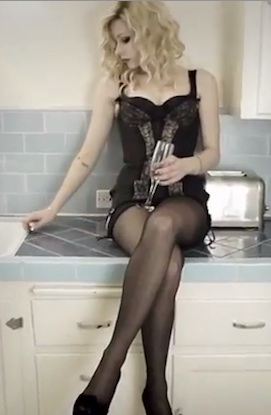 Avril Lavigne has released a video for 'Goodbye', which shows her pottering about in black and white (of course), shaving her leg, and crying alone in her underwear. (YouTube) Emotional stuff.

Rihanna holds a big gun and looks a bit mucky in this poster for Battleships. (Daily Mail)

Brace yourself: Katy Perry's new music "is about to get real fucking dark", so expect less whipped-cream-shooting-out-of-her-breasts-antics in the future. (Ace Showbiz)

Nicki Minaj has revealed her 'vibrant' album artwork for 'Pink Friday: Roman Reloaded'. (Billboard)

If you ever wanted to know what Westlife would look like with a panda as a member, you're in luck. (The Sun)

Cher Lloyd and saviour of real music Matt Cardle will be playing the first Morrisons super­mar­ket music festival over the summer. (Daily Mirror) Keep living the dream, Matt!

US X Factor drama update: Janet Jackson has ruled herself out of becoming a judge, as her schedule is too busy. (Contactmusic) We're not exactly sure why the top picture is of 'Crocodile Rock' hitmaker Paije Richardson, but if he is a new X Factor judge that would be a quite a shock.

Kylie Minogue has welcomed Tinie Tempah to Australia. (Twitter)

And finally, in other 'Australia-related' news, One Direction's show in Melbourne sold out in three minutes. (Herald Sun) [SOMETHIMG ABOUT BIG DOWN UNDER TO GO HERE PLEASE SUBS]
And THAT WAS some of THE NEWS.