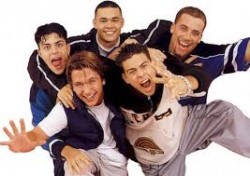 Atomic Kitten, 5ive, Liberty X, B*Witched, 911 and the Honeyz are all reforming for (hopefully, in most cases) a one-off TV show thing.
The Big Reunion will be shown on ITV2 (OBVIOUSLY) at some point next year and will feature footage of the bands rehears­ing and getting ready for a 'gig' in front of "thousands of fans".
"We are thrilled to bring the stories of these pop groups up to date," show bigwig Angela Jain told The Sun. "A lot has happened in the time these bands have been apart – marriages, divorces and changes in careers – and who knows quite what will happen when they reunite!"
We imagine they'll pretend to get on for the money but slowly cracks will begin to appear and various members will be pitted against one another before the whole thing ends with someone leaving and or having a proper Falling Down moment. The End.