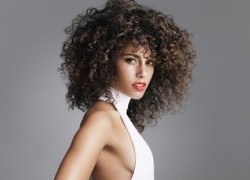 'Put It In A Love Song' hitmaker has 'unveiled' the first new material from her forth­com­ing fifth album.
'New Day' — produced by husband Swizz Beatz — was intro­duced initially by Keys in this fairly excitable video message, before being dumped on Soundcloud minutes later.
As is the way in 2012, the song allowed for some fairly OTT tweeting and a clunky hashtag: "Tell me what a new day is to u!! For me it is the choice to create the life u DREAM about & letting NOTHING and NO ONE stop you!!! ‪#AKNEWDAY."
Dignified.
Anyway, for some reason the song has been taken off her official Soundcloud (well done everyone), but here's the upbeat 'ditty' taken from someone else's page below.