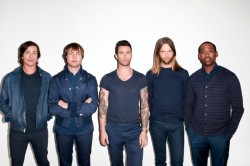 Maroon 5's Adam Levine has claimed it was Gwen Stefani who inad­vert­ently convinced him to get Max Martin to executive produce their 'Overexposed' album.
"It was Gwen Stefani's first solo record 'Love. Angel. Music. Baby' that made me first think about it," he told The Sun. "She's amazing and had that fearless approach to recording with all of the best people in the business. And her record was incred­ible, because she had the courage to step outside her comfort zone."
Influenced as much by the fact that hardly anyone bought their third album 'Hands All Over', the band decided to "rad­ic­al­ise" their musical output.
"So we said, 'Why not try something com­pletely different that could totally rad­ic­al­ise the idea of who we are?' And I think Max Martin is an absolute genius," he explained. "I took him aside and asked him if he would be executive producer. There aren't many guys out there who can write amazing music but also who people respect enough to allow to be at the helm of the operation."
Max is pretty amazing, we'll give you that Adam.