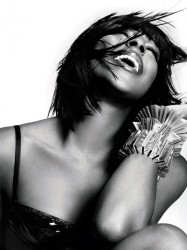 Alexandra Burke has joined Tumblr!
Not only that, she's also written a blog in which she shows us some photos of her weekend.
Under the somewhat descript­ive heading 'brighton pride and castle howard gigs', the 'The Silence' hitmaker tells us about her "amazing" time per­form­ing at Brighton's Gay Pride (for which she sported an inter­est­ing face doily) and her "fun" time with Olly Murs at the Castle Howard show in York.
Among the numerous photos she posted were ones of her meeting fans, one of whom had been stung eight times just before meeting her idol.
The Tumblr also includes a blog from a few days ago in which Alexandra confirms that her new album is finished and that she's col­lab­or­ated with Swizz Beats. As one does.