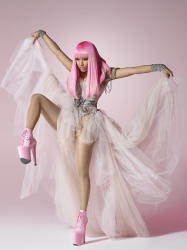 The quiet and under­stated annual affair otherwise known as the MTV VMAs has rolled around again, and Nicki Minaj fancies some music video trophies.
Nicki, in an interview with MTV News, pleads: "We are the hungry, strug­gling, up-and-coming newbies, and you've all been new at one point in your life, so show the kids some love".
In other Minaj news, the 'Massive Attack' hitmaker performed a lapdance for fellow Young Money labelmate Drake at a recent show in Toronto while sup­port­ing Britney Spears on her Femme Fatale Tour.
Good wholesome family fun there.