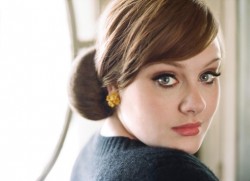 Adele had to pull out of a per­form­ance on Dancing With The Stars last night because her voice was — and you'll have to excuse the technical ter­min­o­logy — "knackered."
The Daily Mail report that while she'd managed to get through 'Rolling in the Deep', she had to step aside and let Delta Goodrem sing Carole King's 'Natural Woman' so she could rest her voice.
"My voice is going a bit, it's knackered and I need to save it," she said. "Delta Goodrem has stepped in with an hour's notice, so thanks very much. I am gutted."