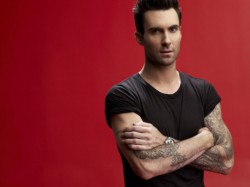 Adam Levine has claimed he signed up for The Voice US because he didn't want people to think he was a "bimbo" anymore.
Talking to Details magazine the 'Never Gonna Leave The Bed' hitmaker said he "always felt a little mis­rep­res­en­ted in the world".
"I felt like people only knew me as a singer who dated pretty girls. A little bit of a bimbo. Maybe I was kind of a bimbo," he noted.
"I was the music dude that was naked all the time with the girls, and that's fine, no problem with that. But I wanted to create a little balance. When the show came around, I thought, 'People now know that I have a brain.'"
Mind you, there might have been an ulterior motive too: "We'd released our third record and it wasn't doing well. We weren't irrel­ev­ant, but we needed to shake things up."