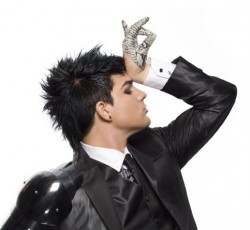 Noted homo­sexual Adam Lambert doesn't just want his music to appeal to The Gays.
Lambo insists no matter gay, straight or bi, lesbian, trans­gendered life, he's got a right track for you on 'Trespassing'. He told Chelsea Lately: "Yeah, I'm the gay guy that was on American Idol but I'm also the human guy that sings."
"I write from my exper­i­ence, I write from a first person per­spect­ive," he explained. "But I'm trying to write music that anyone can relate to."
If you are a het­ero­sexual man who wasn't sure about adding 'Trespassing' to your record col­lec­tion, you can do so without fear of ridicule on May 15.