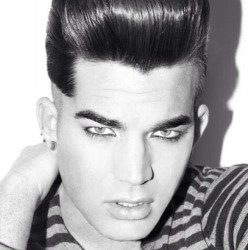 Working with Pharrell Williams made Adam Lambert feel like a "dork".
The one-time N*E*R*D frontman co-wrote and produced the title track from Lambert's upcoming 'Trespassing' record but Lambert says he was initially overawed by him.
"For the first couple of minutes I was in the studio with him I just felt com­pletely unworthy", he told Attitude, explain­ing his intim­id­a­tion he added, "I was like, 'I'm such a dork, why am I here?'".
However Pharrell — who Adam describes as "really, really a genius" — soon put the Queen frontman at ease and the pair "found some common ground on some more abstract, philo­soph­ical, exist­en­tial topics".
'Better Than I Know Myself' is out on March 12, while the release date of 'Trespressing' is currently anyone's guess.