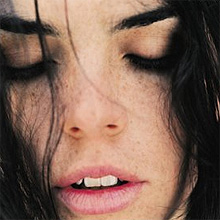 Leona Naess has got a new single coming out next week.
It's quite pleasant in a floaty folky put it on your shelf at home and never listen to it ever again sort of way.
QUESTIONS THAT NEED ANSWERING


1. In the same way that Amazan.com probably gets most of its traffic from people mistyping Amazon.com, will Leona Naess sell more downloads thanks to Leona Lewis fans typing 'Leona' into the iTunes Store?
2. If this does prove to be the case, would it be a good idea for someone like Roisin Murphy to change her name to Leona?

3. Even though she was 'doing music' before the other Leona, should Leona Naess hence­forth be known as Leona Lewisn't?

4. Should we do an interview with Leona Lewisn't for no reason other than to attract people looking for 'Leona interview' on Google?
5. If there was a rule in pop similar to the rule in soap operas which states that no two people can have the same first name, who out of Lewis and Lewisn't would be able to keep the name Leona?
6. If there was to be some sort of battle over who was the 'Leona owner', what form would that battle take?

7. Etc.